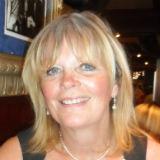 "I didn't think twice about taking my first bowel cancer screening test as I've had several people in my life affected by different types of cancer and know, the earlier it's found the better.
"In November 2013, having completed my kit, I was asked back for further tests, including a colonoscopy. Doctors spotted something unusual - I was a little surprised as I didn't have any symptoms, and felt well. Within a few days, I was told that it was in fact bowel cancer.
"Two weeks later I had surgery to remove the tumour, which was followed by six months of chemotherapy. Everything moved so quickly and, in what felt like no time at all, it was all over. My treatment had been successful.
"I've always been a healthy person - I like to exercise and eat healthily, but even more so now.
"There's a stigma around talking about doing the test but it could save your life, like it did mine. That should override any worries or embarrassment. My words of wisdom - just do it."