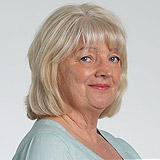 "I had just turned 50 so it was the first breast cancer screening that detected my cancer. I went for a mammogram in the morning before work and a week later I received a letter asking me to come back. I thought it was just because I had moved during the process - I didn't actually think something could be wrong. I was so relaxed about it that I moved the follow-up appointment so that I could go away for the weekend.
When I returned, they told me that they had found something in both breasts. Although on further investigation they said that only the right breast had cancer. I think this proves that not everything that shows up on a mammogram is cancer.
At the time I didn't really take it in. I didn't have any symptoms and they couldn't feel any lumps. I then had another mammogram and they did a biopsy too. I had to wait five days for the results to come back. When I went back with my husband I remember the nurse was very calm and just came straight out with it, she simply said 'I'm sorry to say that you have cancer.' It was a big shock. My initial thought was that I was going to die but they were very reassuring and I left feeling that the prognosis was good. They gave me a letter for a chest x-ray and a week later I received a call to say that my blood tests had shown that the cancer hadn't spread.
I had a lumpectomy which was very quick and I was in hospital for just three days. When I came round from the operation I felt relieved that the cancer had been removed. I had just over six weeks of radiotherapy.
My husband supported me throughout the process and there was a real camaraderie with the other women I met during the experience. I felt looked after, supported and cared for by medical staff. To meet me now you wouldn't guess that I've had cancer. I look and feel fit and well.
Going for that first mammogram saved my life. Although my cancer was slow growing it was like living with a ticking time bomb. I would strongly advise other women to take up the offer of breast screening. It's a very quick process and there's no pain, just a second of discomfort and it's all over. The screening team are lovely and they make it a very normal, routine experience. It's certainly not worth risking your health by turning down the invitation – I'm so glad I went!"
Have you influenced a loved one to get checked early? Or did you get checked early and now live a full life? If you'd be willing to support our campaign, we'd love to hear from you – your story could encourage someone else to take action. Contact us here.