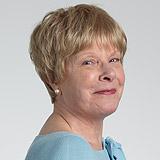 "I had my routine mammogram on the 25 February 2013. I remember it clearly as it was my husband's birthday was three days later and we went to a wedding reception on the 2 March where we danced the night away. I felt great and obviously unaware that anything was wrong with my health.
A couple of days later I felt a pain in my left breast. I put it down to the discomfort of having the mammogram at first but then started to worry, so I phoned the Breast Screening Centre in Glasgow and they advised me that I was going to be called in for further mammograms anyway. They were very helpful and I felt better for having shared my feelings with the professionals.
The following week I had a few mammograms and an ultrasound, which they were concerned about. A needle biopsy was taken and I was given an appointment to return the following week. On 18 March the diagnosis was confirmed. I had invasive ductal breast cancer. The doctor said that the lump was small, about 16mm. I was informed what the next steps would be. While I was trying to come to terms with what I'd been told, the doctor said that an appointment had been made for me that very day at the New Victoria hospital in Glasgow for a pre-operation examination. I was glad it was all organised for that day as it helped take my mind off the diagnosis. Everyone at the clinic was very positive about the operation and any necessary treatment to follow. Their attitude made me feel positive about it all.
In April 2013 I went for day surgery to the New Victoria. I had a lumpectomy and a few lymph nodes were removed. I thought that would be the end of operations but I was told the following week that I would need further surgery to remove pre-cancerous cells and more lymph nodes. The second operation in May was successful and I didn't require any more surgery. I then had four sessions of chemotherapy followed by 15 sessions of radiotherapy. Prior to receiving the radiotherapy I began my hormone therapy - a pill which is to be taken for 5 years.
Thanks to the efficiency and professionalism of the staff at the New Victoria, and other hospitals I had to attend, the whole process of the treatment was very quick from diagnosis in March to completion of treatment in mid October. The medical staff were amazing and helped me every step of the way, something which makes a massive difference to how you feel going through the treatment. Family and friends have also been a wonderful source of support, especially my husband Geoff who was the perfect carer and to whom nothing was too much bother. He accompanied me to all my important appointments.
My friends' reaction to my illness has given them a wake-up call about detecting breast cancer. So many of them say that, because of what happened to me, they are continually checking their breasts for any adverse changes and making sure they attend mammogram appointments. They are also telling their friends and families to do the same. Word of mouth is a great thing!
Surviving breast cancer has really hit home for me that no one is immortal. I genuinely didn't think that cancer was something I would be likely to get. I have a good diet, exercise regularly and I've never smoked, so I thought I was less likely to be at risk than some people. You just don't know what's going on in your body as my experience, prior to receiving the diagnosis, shows that I felt fine but I didn't know I had breast cancer.
It is so important for women to take part in breast screening. If I hadn't gone for my routine appointment then the cancer would probably not have been discovered until much later and perhaps too late to get treatment.
I know that some people can find the screening process uncomfortable but you just need to get on with it. Women have to go through lots of different examinations across their lifetime, a prime example is pregnancy and childbirth, so this shouldn't be treated any differently. I have always found that the nurses who do the mammograms are very aware about our apprehension of having these x-rays, and treat us with great care. The mammograms are over with very quickly and it is worth these few minutes of discomfort to know that you are healthy.
Once you've had cancer you feel very different about it. I was 70 in September 2013 so I wouldn't normally be called for routine breast screening but, even if I hadn't had this experience, I would still have asked for a referral in a couple of years time. You can't take a chance with something as serious as cancer."
Have you influenced a loved one to get checked early? Or did you get checked early and now live a full life? If you'd be willing to support our campaign, we'd love to hear from you – your story could encourage someone else to take action. Contact us here.