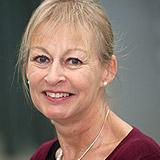 After spending a holiday abroad coughing relentlessly in 2000, Jenny knew something wasn't right.
When she returned from holiday, she went straight to her GP, who probably suspected there were signs of the disease. He asked to look at her fingernails, which were curved and claw-like, something which can be a sign of lung cancer.
Jenny was sent for an x-ray which confirmed the lung cancer diagnosis. She was upset but not surprised because she was so aware of what to expect following her father's illness. She saw a lung specialist, who conducted a bronchoscopy and a biopsy.
Jenny found herself part of a new lung cancer trial to see whether chemotherapy treatment before surgery made a difference. After four weeks of chemotherapy, Jenny had a successful operation to remove a third of her lung.
"I think I knew there was something wrong with me and after seeing what my father went through, I knew the signs of lung cancer. So I was upset but in a way, not surprised. I was very tired from the constant coughing and you become very conscious of it when you're with people. So I just knew something wasn't right."
Her recovery from the operation was tough but her husband, friends and family encouraged her to get up and about.
She was struck down a year later when she was told she had a secondary brain tumour stemming from lung cancer. Jenny had radiotherapy immediately. That was over ten years ago and she's still here to tell her tale.
Her specialist, Dr Marianne Nicolson at NHS Grampian says the cancer is 'lying dormant' but Jenny feels good and has carried on happily living her life, working as a primary school teaching at a primary school four days a week. She regularly goes to the gym and loves going out for long walks.
She said, "I'm still here, 13 years after being initially diagnosed. I shouldn't have been here six months after being diagnosed but I am. And I live a very happy, fit life. It's so important to go to your doctor with any concerns about your chest – the earlier the better as it could save your life."
Have you influenced a loved one to get checked early? Or did you get checked early and now live a full life? If you'd be willing to support our campaign, we'd love to hear from you – your story could encourage someone else to take action. Contact us here.