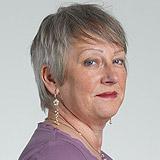 "I hadn't felt any lumps or experienced any signs of cancer so I wasn't worried about going for the routine mammogram at Ayrshire Central Hospital. I really didn't expect it when I was called back two weeks later for a biopsy. The mammogram had detected a lump that even the nurses and doctors couldn't feel. At this point I still wasn't expecting the diagnosis to be cancer – I thought that it might just be a fluid filled cyst as I'd had this about ten years ago. However, the results of the biopsy came back about two weeks later to confirm that it was indeed breast cancer.
I went to Crosshouse Hospital for a lumpectomy in November. The surgeon said that the main tumour was about the size of a hazelnut but that they had found a second tumour which they also removed.
I then had to undergo a Herceptin trial that lasted 14 months. I was in the control group so I had the conservative treatment which included three doses of Herceptin, three sessions of Herceptin with Docetaxel and radiotherapy. On top of this I still need to take a hormone therapy drug, which I'm on for five years.
Despite having cancer my health is now very good. I have a few joint problems as a result of the hormone drug but I take painkillers and Ibuprofen to manage this. Having cancer hasn't stopped me having an active lifestyle. I enjoy taking part in country dancing, yoga and walking.
I don't understand why more people don't take up breast screening. It's free and available in your area. You probably won't have cancer but if it turns out that you do then it's not the end of the world. I've had excellent treatment and there's lots of support out there. My cancer was Grade 2 so it was quite aggressive. If it hadn't been found by the mammogram then it could have killed me. It's better to find it early, get treated and go on to live a full and happy life."
Have you influenced a loved one to get checked early? Or did you get checked early and now live a full life? If you'd be willing to support our campaign, we'd love to hear from you – your story could encourage someone else to take action. Contact us here.