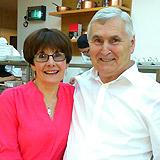 "My husband, Bill, was diagnosed with lung cancer in spring 2000 and thankfully is now fit and well. We both feel extremely lucky that his cancer was detected early and treated so quickly.
It all started when I noticed that Bill was coughing constantly at night. A friend visiting from California, who was a nurse, mentioned it was something he should get checked out if it was bothering him. I had been telling him to get to the doctor for a while, but think in the end both of us nagging persuaded him to go.
He had made an appointment to see about a sporting injury and brought up his persistent cough at the same time. I think he felt he was making a fuss about nothing and the doctor would just send him home with cough medicine, but he was fantastic and took Bill's concerns seriously. He sounded his chest and suggested an x-ray that same day. At 9am the next morning the doctor called saying the x-ray had shown a shadow on his lung, and soon after it was diagnosed as lung cancer. Just three weeks later, Bill was at the Beatson in Glasgow receiving treatment.
After undergoing his treatment, the specialist gave us the good news that the cancer had gone in the February of 2001. The outcome for my husband was really good and we feel very lucky. It makes me shudder to think that things could have been different if he had put off going to the doctor about that cough.
There's no doubt in my mind that family and friends can make all the difference when it comes to persuading people to get their health checked. Sometimes you notice things that the person themselves isn't aware of, like a persistent cough. A bit of reassurance and encouragement from a loved one goes a long way. Giving them a little nudge in the right direction could just save their life."
Have you influenced a loved one to get checked early? Or did you get checked early and now live a full life? If you'd be willing to support our campaign, we'd love to hear from you – your story could encourage someone else to take action. Contact us here.