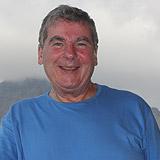 "To be honest I wasn't initially too worried about the cough but my daughter convinced me to go to my GP. I didn't think it was worth bothering my doctor about but I agreed to go just to put her mind at rest. However, it turned out that my daughter was right to be concerned and I'm just so thankful that she made me get checked out.
The doctor sent me for an x-ray at the hospital where they discovered a cancerous tumor was blocking the passage into my lungs.
When I heard that it was cancer it was very overwhelming but I didn't have time to dwell on it. I knew that I had to stay positive for my family and I felt very lucky that it was discovered quickly so I could be treated."
Eric received four lots of chemotherapy to shrink the tumor, making surgery possible. He then underwent an operation in Jan 2009 to remove his upper right lung. Since having the treatment Eric hasn't looked back.
"My worst fear was always becoming an invalid and losing my independence but it never happened. I've made a very good recovery and having cancer hasn't stopped me enjoying life. I go to the gym every day and I look after myself.
Catching cancer early has given me the best chance of beating the disease. I would strongly urge everyone to be aware of their body and if you find something unusual or different, then make an appointment with your doctor straight away. The worst thing you can do is ignore signs and symptoms. It may not be anything to worry about but it's always best to get a check up."
Have you influenced a loved one to get checked early? Or did you get checked early and now live a full life? If you'd be willing to support our campaign, we'd love to hear from you – your story could encourage someone else to take action. Contact us here.